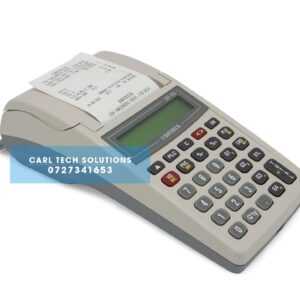 DP-50 is Datecs mobile cash register. It is one of the smallest on the market, yet very powerful.
This ECR has a 2200mAh LiIon battery pack which allows the device to be used for very long time without recharging.
Datecs uses battery cells from Samsung which guaranties long life of the device.
Universal – suitable to be used in all kind of retail/wholesale shops, restaurants, etc.
Fast and noiseless thermal printer
Easy paper loading;
Auto-cutter;
printing speed – 150 mm/s;
Thermal paper size of 80 mm
Equipped with a fiscal memory
Has a unique serial number just like the retail ETRs and is uniquely assigned to the business that buys it.
Used in conjunction with the computer system running the accounting software normally used to print documents such as invoices etc of a company
To be valid, each and every financial document must bear the electronic signature at the end
Each and every financial document is kept as electronic copy in computer files, together with its electronic signature as issued by the ESD
Companies no longer need to maintain paper copies of their financial documents as tax authorities Electronic Signature Device can certify beyond doubt the authenticity of the computer file